How To Style Your Console Table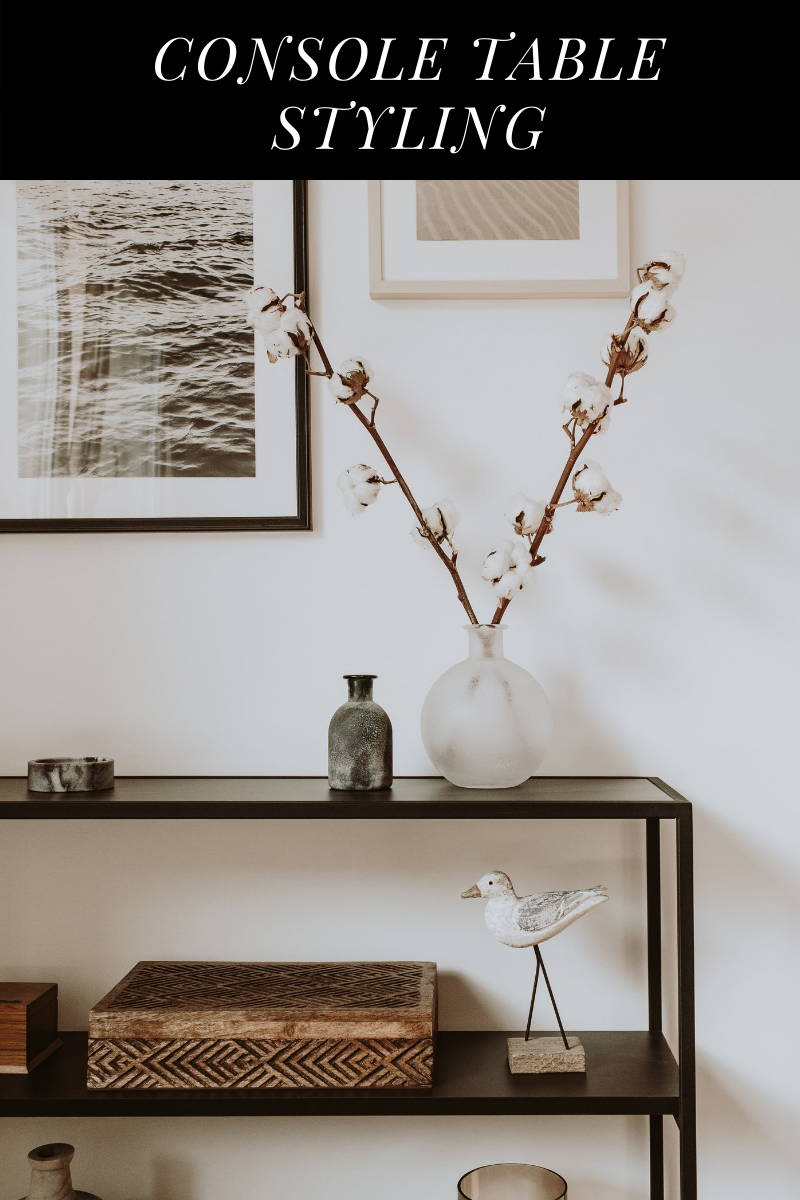 First impressions are so important in design. When someone walks in your front door and sees your console table in the entryway, they should see your style and personality shining through.
We wanted to share a few console table styling tips that can be incorporated in every entryway and highlight ways to style a console table for an eclectic design style, boho-chic design style, and modern farmhouse design style.
Console tables often have an open bottom, so adding some substantial pieces below the console table is vital to balance the visual weight. Our favorite way to balance out the console table is to add large baskets underneath the console table. Not only are baskets aesthetically pleasing, but they are also functional because they provide extra storage for items such as shoes. Baskets are also a great way to add texture to your entryway.
You can source large decor pieces such as a vase to place underneath the console table or opt for some ottomans if you want another option.
When considering the height of objects to style under your console, you will want at least 4 to 6 inches between the item and the top of the console.
For an eclectic aesthetic, look for baskets in a unique shape or color or swap out the basket option for large unique vases or vessels.
For the boho-chic aesthetic, look for baskets with a lot of texture, patterns, and maybe even a pop of color.
For the modern farmhouse aesthetic, look to add classic wicker baskets.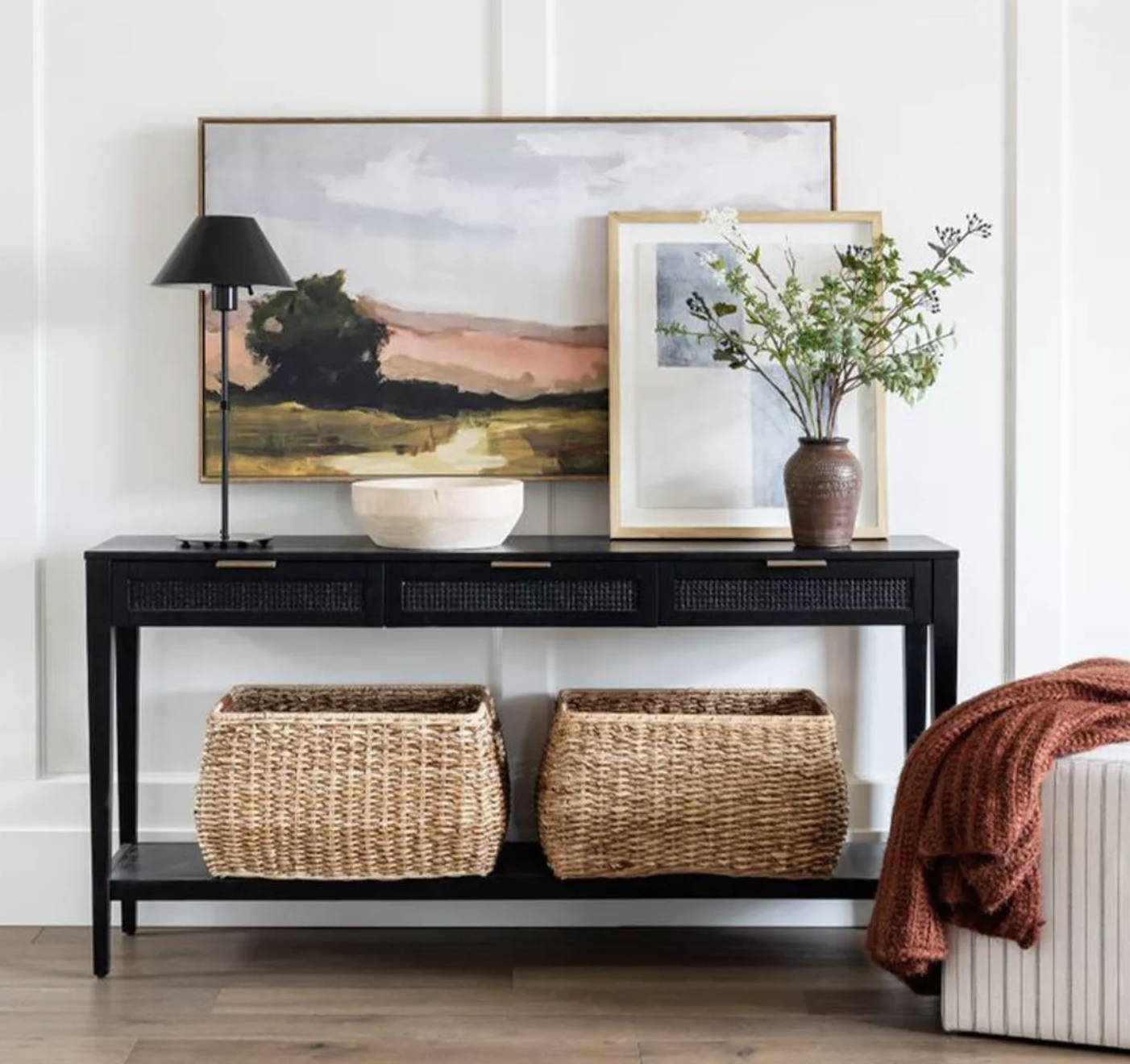 Console Table – Target, Threshold Designed with Studio McGee
Now that we styled underneath the console to balance the visual weight, we can focus our eyes above the entryway console. Here is where you should pick a large piece as a focal point that will pull everything together. Consider using artwork to match your aesthetic or a more oversized mirror which is also practical.
This item can be placed on the console and leaned against the wall, or you may choose to hang this item above the console. Either way, we are looking to balance out the look and draw the eye in with a significant focal point.
For the eclectic aesthetic, we recommend choosing a piece of unique art.
We recommend sourcing a unique mirror such as a sunburst mirror made of wood or gold metal for the boho-chic aesthetic.
We recommend a classic large round mirror or a multi-paned mirror in a black iron finish for the modern farmhouse aesthetic.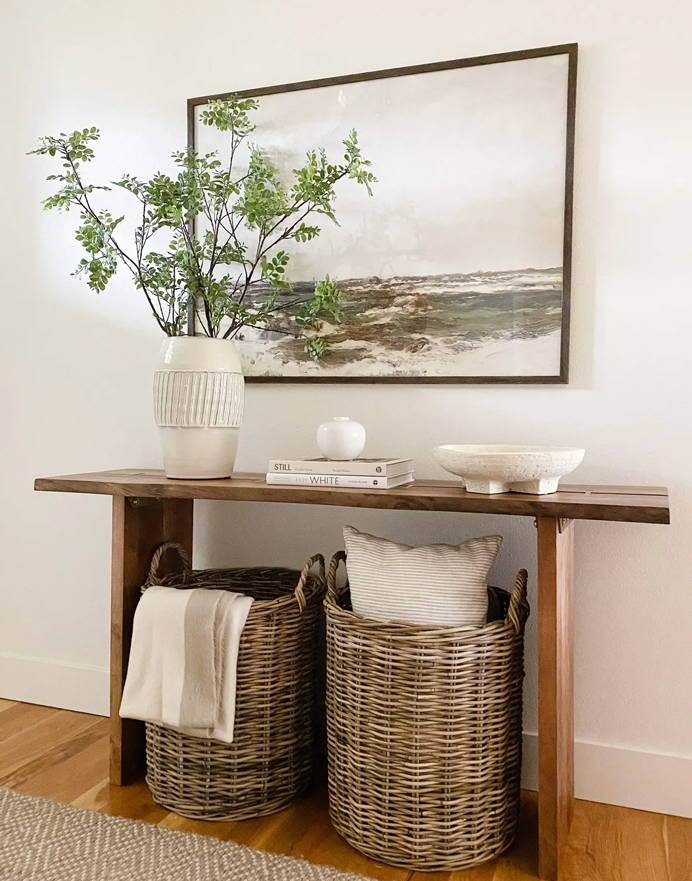 Console Table Styled by the Sommer Home
The next step is to choose some large decor pieces to style your console. These items may include lamps, a large vase, stacked books, and artwork. This step will take some work to ensure the scale is correct and the look is cohesive.
Some styling options here include adding a large lamp to one side of the console and balancing the other side with a piece of artwork or a vase that is similar in size. Alternatively, if you want a more symmetric look, try placing a lamp on both sides of the console.
Try incorporating a boldly shaped lamp, jewel-toned abstract artwork, and unique-looking vases for the eclectic aesthetic.
A seagrass or rattan lamp, travel-inspired artwork, and colorful books will pull together a cohesive boho-chic aesthetic.
For the modern farmhouse aesthetic, look to incorporate pieces of art that include landscape, neutral-colored vases and lamps, and stacked books.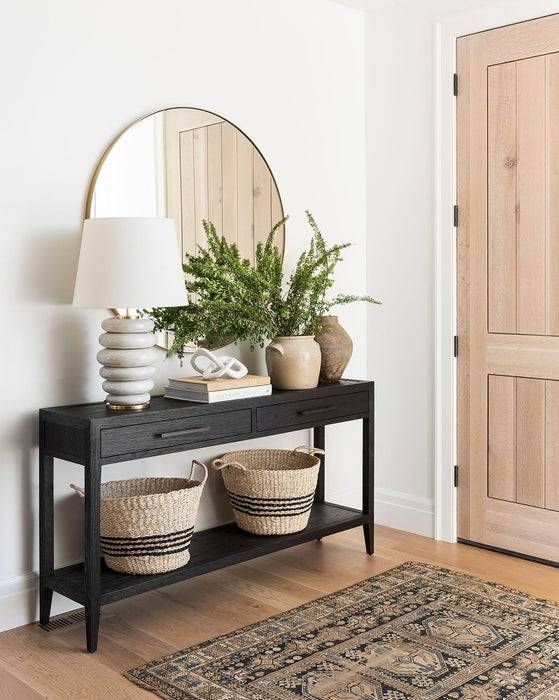 Console Table Styled by Studio McGee
The final step is to add a few smaller home decor accessories to complete the look. Our favorite items to add are candles, trays, boxes, small sculptural pieces, and some greenery.
Have fun with this step as you add the finishing touches to your console but be careful not to overdo it!
For the eclectic aesthetic, think outside of the box. The more unique the better. Adding small unique sculptural pieces, candles, and uncommon trays and boxes.
We love adding fun candles, succulents, pampas grass, and colorful trays for the boho-chic aesthetic.
Rustic beads, wooden trays, simple candles, and dried florals make for a stunning modern farmhouse aesthetic.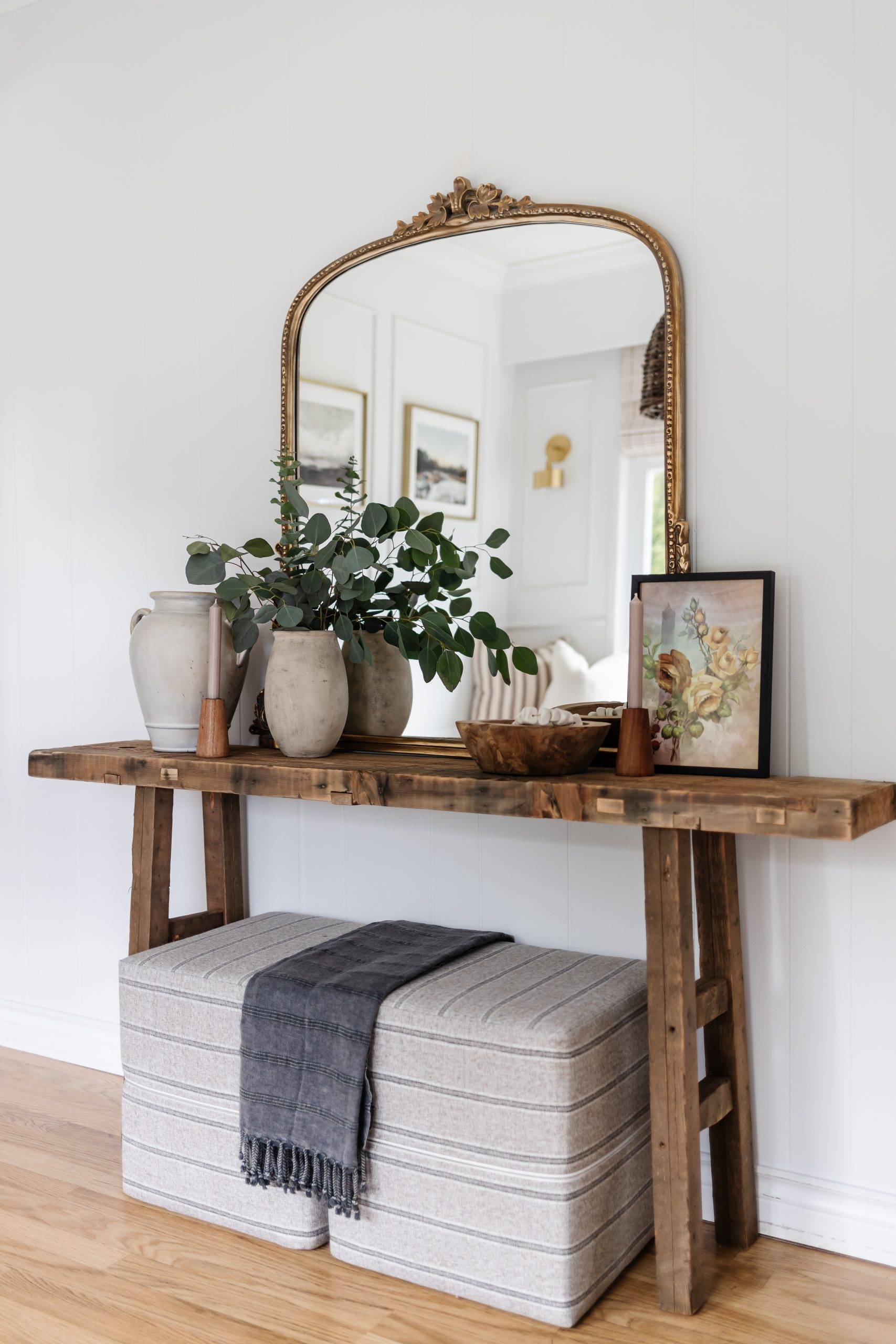 Console Table Styled by the White Picket Farmhouse
We hope this inspired you to style your entryway console table to reflect your design style and bring function and personality to your space.
Whether your style is eclectic, boho-chic, modern farmhouse, or one of the other many design styles out there, these tips can be incorporated into any space.
Check out our shop page if you need some statement decor and accessories to add to your console table. Our boxes and gift sets are filled with items that will look great on your console table or elsewhere in your home!
For additional inspiration, check out the graphic below that highlights how you can use items in the L'Atelier Modern Farmhouse box to style your console!